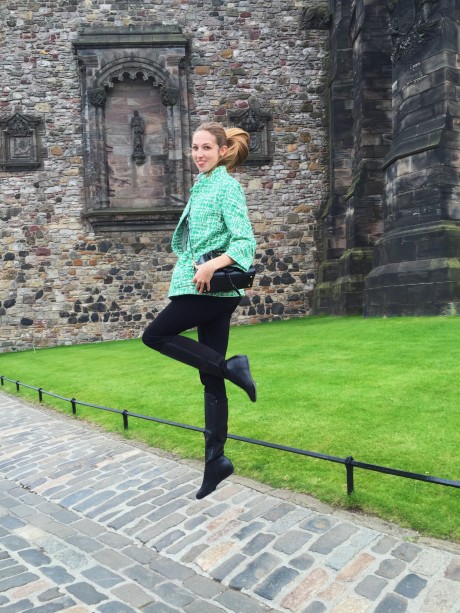 Clothes hold stories; histories of our lives and adventures, highs and lows of being spilled on, forgotten and mended. Clothes follow us as we travel, hit the town with friends and stay up all night laughing or crying. What we do and who we are becomes woven into the fabrics we wear like the fabrics of our daily lives, remaining the same until the next time we feel like getting gussied up or grabbing that favorite tee. Clothes, like so many things in our world, can be viewed as disposable; but, over the years I have realized that I would much rather invest in something that I will come to cherish than waste my money on a throwaway.
Of course, this doesn't mean that you have to spend a ton of money on your wardrobe to consider it valuable. Beautiful, quality pieces that will provide endless wear and confidence can be found with a little effort and patience if you know where to look. Take this amazing green coat for example: I got this coat from Zara right before my trip to the UK and it was absolutely PERFECT for the weather and occasion in Edinburgh. The weather in Scotland can be a bit iffy in the summer and fluctuates between warm and windy to cool with a very likely chance that it will rain at some point during the day. This was my first time in Edinburgh and I have to say that I had a wonderful experience –the city has so much going on, but is so down-to-earth.
From the top of the Scott Memorial to the bottom of Mary King's Close (passage that runs "beneath" the city), I adventured through Edinburgh, amazed by the compact city center and incredible history that dates back to the Middle Ages. I walked the Royal Mile, explored the castle and tasted every Scottish delicacy I could stomach—haggis and neeps & tatties included. Should you visit, I highly recommend dining at The Doric, the oldest pub in Edinburgh for traditional Scottish fare or Mark Greenaway's for a more artistic culinary experience.
Throughout the day, I shed my coat…and put it back on…and took it off…and put it back on…smiling all the way.


Outfit: Zara green jacquard jacket, Vince Camuto trousers, Aldo boots, Kate Spade crossbody