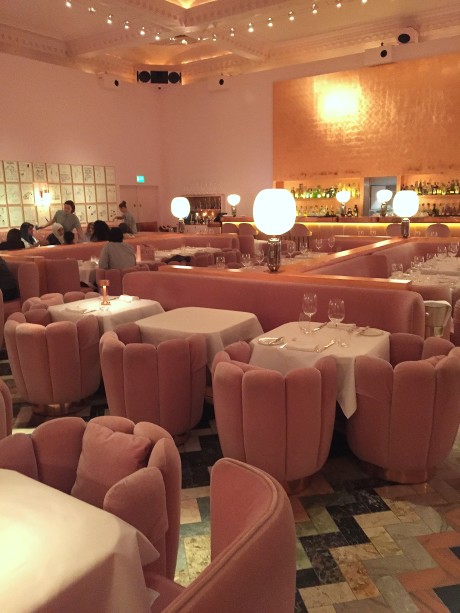 Pink + art + tea. For a girl like me, this is a pretty irresistible combination. As soon as I heard about the magical Gallery at sketch in London, I put it on my to-do list. A locale that has become known for its fully immersive art installations, sketch's Gallery currently hosts the work of David Shrigley. Paired with the sugary pink tea parlor, Shrigley's sardonic illustrations on the walls and dishes make the high tea atmosphere the perfect combination of sweet and salty.
Afternoon tea includes, of course, tea as well as enough tasty treats to last for days. We don't have a lot of lemongrass & ginger flavored drinks in the states, so I went with that as my tea selection and it did not disappoint. Some of my favorite goodies on the three-tiered trays: the mozzarella and pesto panini, raspberry tart, and Earl Grey macaroons. If anything runs out, it can be refilled and we were given even more in a to-go bag to save for later.  Skipping lunch and saving your appetite is a good idea for those considering a high tea of their own.
While I primarily took photos in the Gallery, sketch has a maze of rooms that are each designed as their own fantastical world. One of the most creative rooms is definitely the bathroom, which is like a bunch of individual spaceship pods under a rainbow ceiling. Inside the pod (of course you have to try it!), a track switched between birds chirping and a voice instructing me about space travel (at least I think that's what he was saying).
All in all, this tea experience is definitely worth a go!


Outfit: Vestique dress, vintage earrings